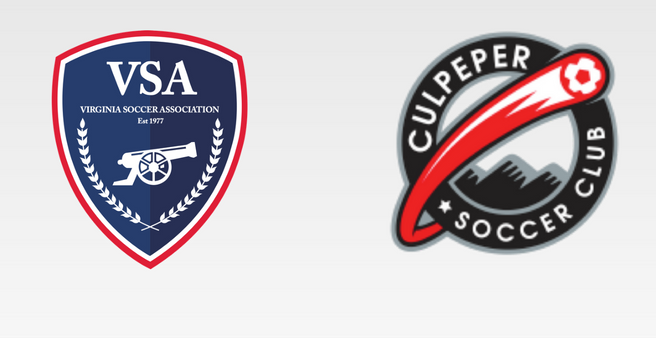 Haymarket, VA – Virginia Soccer Association (VSA) and Culpeper Soccer Club (CSC) are proud to announce an official partnership between the two clubs beginning immediately. This relationship is a great step forward in both clubs' continued efforts to develop top level players and coaches. This collaborative effort enhances player identification and opportunities for elite-level players, shares coaching education resources, and seeks to establish player pathways to college and beyond.
Matt Lacey, VSA's Executive Director, had this to say, "We are very excited to partner with Culpeper Soccer Club. I have been very impressed with the strong leadership from Dan Bales (CSC's Technical Director) and the direction of the club at all levels. We believe that working together and providing opportunities for players and coaches is a great step forward for both of our clubs. We look forward to the next few years in club development for the both of us"
The robust player pathway program at VSA has been identified by CSC as an exciting component of this new relationship. CSC players will now have increased access to additional training and playing opportunities with VSA, elite-level evaluation sessions, and college prep education.
A big part of VSA and Culpeper Soccer Club's partnership is providing Culpeper Soccer Club's coaches and players to more exposure and education with highly licensed coaches. VSA currently has 8 coaches who hold a USSF A license, 6 coaches who hold a B-C License, and 8 coaches who hold a USSF National Youth License. All of VSA's remaining coaches currently hold a USSF D license or are currently working towards it. VSA also has three VYSA Coaching Education Instructors along with 3 US Development Academy coaches on staff. Culpeper Soccer Club coaches will also have access to VSA coaching education classes and online platforms.
"This is an extremely exciting partnership with VSA. I'm thrilled to work with such a professional organization in VSA, and I look forward to sharing resources and providing more coach and player opportunities together." says Dan Bales, Associate Technical Director of Culpeper Soccer Club.
VSA in the past two years has seen tremendous improvements in club structure from growth and retention to player development and coaching education opportunities. VSA proudly now boasts some of the best professional coaches in the Northern Virginia area along with some of the best facilities and league platforms in the state of Virginia. Some notable achievements have been the club's successful application and acceptance into the Virginia National Premier League, the creation of the Youth Development League (YDL), record numbers of players in the Virginia ODP program (60+), and the co-founding of the Virginia Development Academy (US Development Academy - Boys and Girl Member Club) in coalition with Prince William Soccer Club and Chantilly Youth Association.
Culpeper Soccer Club has experienced significant growth in recent years, and has become a popular soccer destination in the VA Piedmont region. It features a competitive Travel Program with teams in multiple age groups that compete all over the VA/MD/DC region. CSC has also developed an in-house U8-U10 Academy Program which prides itself on player development and teaching soccer fundamentals. The CSC Recreation Program serves players in Culpeper and surrounding communities, continuing to promote a club culture that places great emphasis on personal growth while learning and playing the game of soccer.